Historical Significance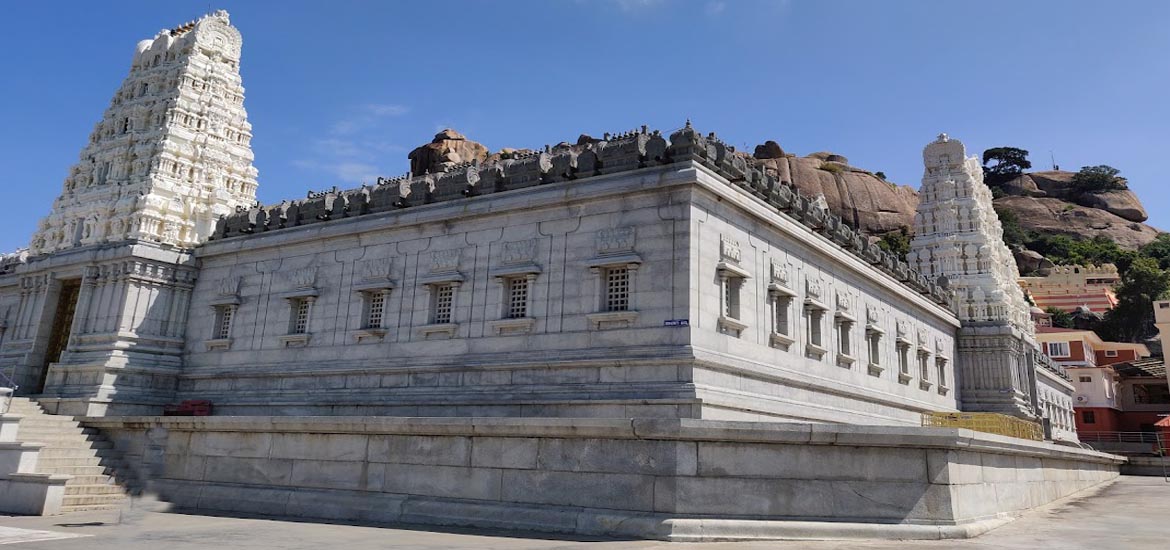 Sri Kalabhairaveshwara Swamy Temple
Kambadamma
Sri Jwalapeeta
Bindu Sarovar
Sri Kshetra – Kshetra of Pancha Lingas
Sri Akasha Bhairava and Cheloora Kamba
Sri Adichunchanagiri Kshethra is a prominent and well-known divine place situated at Nagamangala Taluk of Mandya District, Karnataka State. This hill is around 3221 ft. above mean sea level. According to mythological and folk scriptures, this has been a place of penance for Lord Shiva and surrounded by beautiful green forest, calm and serene atmosphere. There are many holy places around this temple like Gommateshwara Kshethra of Shravanabelogola, Siddalingeshwara Kshethra of Yediyur, ChaluvanarayanaSwamy Kshethra of Melkote and Parashurama Kshethra of Halti.
Sri Adichunchanagiri is a place of equity with great historical significance over the past 2000 years. According to mythology Lord Shiva in Tretayuga established Sri Petha. This indicates the divinity and significance of the place. This hill is also a residence of many peacocksand hence called as 'Mayuravana'. Many great souls have performed penance in this holy land and attained salvation.

Mythological Story illustrating the greatness of Sri Kshethra
According to ancient mythology, Siddhayogi in the incarnation of Lord Shiva engaged in penance at Chunchanakatte on the banks of Kaveri river. In Threthayuga, as per the directions of King Dasharatha, Sri Rama, Lakshmana and Sita went on exile. During this period Ravanna abducted Sita and Rama, Lakshmana in search of Sita reached Chunchanakatte and saw Lord Shiva in penance there. They revered Lord Shiva and were blessed that their wishes be fulfilled. Later, Lord Shiva resided at Chunchanagiri.
Sri Kalabhairaveshwara Swamy Temple
Sri Kalabhairaveshwara Swamy is the main deity of this temple. The story of this dety as illustrated in Siddalinga Purana is as follows. Lord Vishnu incarnated as Mohini in order to kill demons returned to his original form after accomplishing this mission. But, Lord Shiva was infatuated seeing the beauty of Mohini. By her relationship with Shiva, Mohini conceived and was unable to nurture her foetus for nine months. Thus, the child which took premature birth was called as Akala Bhairava. Later this child became the custodian of Lord Shiva and renowned as Kala Bhairava. According to folk songs, Lord Shiva instructed him to become the main deity of Vokkaligas who are reputed as sons of Goddess Parvati and thus Lord Kalabhairava resided at Sri Kshetra. Lord Kalabhairava is also known by the names of Annadni Bhairava, Bettada Bhairava and serveral other names. Lord Kalabhairava is revered by people of all castes and creed.

Paramapoojya Jagadguru Sri Sri Sri Dr. Balagangadharanatha Mahaswamiji has constructed this magnificent temple in a span of fourteen and half years. The construction work was started on 22.08.1993 and the temple was inaugurated on 17.02.2008 in the divine presence of Poojya Mahaswamiji. The temple is spread over a wide area of 257 ft x 175 ft. The temple is glorified with four large gopuras based on chola style. Three of them are of 77 ft height and the Raja Gopura at the east is of 100 ft height. The architecture of the entire temple is based on Dravidian style, while the gopurams are built on Chola architectural style. The sanctum santorum is surrounded by 172 beautifully carved stone pillars. In front of the sanctum santorum we have the 10.5 ft tall Ashta Bhairava idols along with 64 bhairava idols which is an attraction for the devotees. Each and every part of the temple is beautifully carved to add grace and divinity to the temple.
Newly renovated Bindu sarovara, Pushkarini and lotus pond are attractive and worth seeing. Attractive statues of Gods have been sculpted out of the rocks in and around Sri Kshetra. A 23 ft tall Nagalingeshwara has been sculpted out of monolithic rock. The carving work of Ganapati idol has also been started.
As soon as the visitors pass the main arch of the hill, they witness the Shakti Devatha – Kambadamma. According to scriptures, Adishakti resides in the form of a pillar as Kambadamma in this divine place. It is alluring to witness the sight or revering Goddess here, dressed in beautiful saree and chanted with musical instruments.
This place is revered as Jwala Peeta as Lord Shiva resided there for penance. Devotees also refer to this as 'Uri Gadduge'. As this is the pioneer of the peethas established by Lord Shiva, this place is called as 'Adi peetha – chunchanagiri peetha'.
Lord Shiva describes the divinity of the region while handing over this place to Siddayogis as follows. This peetha is filled with the glow of my glow and hence always has the shine of fire. One who witnesses the sight of Pontiff of this abode will have a fruitful life and wipes off all their sins. The sight of the pontiff also blesses the devotees with great fortune.
This Jwala Peetha is adorned by the current Pontiff on occasions like Navaratri, Shivaratri and the during the Ratostsava time. On those days, thousands of devotees visit here with great devotion.
It is on the North direction of Sri Math. Kambadamma represents Goddess Adi Shakti and Bindu Sarovar represents Goddess Ganga. This lake is eye catching for its beauty of depth, vastness and greenery around. It is known as Bindu Sarovar, as a droplet of water fell from the head of Lord Shiva. Devotees believe that every disease is cured if one bathes in this lake. Water from this lake is used to perform abhisheka for Sri Gangadhareshwara and Sri Kalabhairaveshwara.
It is also believed that devotees gain the fortune equivalent to performing Ashwamedha Yajna by revering and bathing in this holy lake. They also obtain the purest bliss in the soul by revering Lord Shiva here. According to some mythological tales, this place gives more fortune than Kashi kshetra.
Sri Kshetra – Kshetra of Pancha lingas:
Lord Shiva promised to stay in the form of Panchalingas in this divine place while handing over this place to Siddayogis. Thus he resides in the form of Ganagdhareshwara, Kathale Someshwara, Chandramouleshwara, Gavi Siddeshwara and Malleshwara. This place is also known as 'Dakshina Kashi'. According to Shaiva Purana, the fortune of witnessing Kashi goes in vain, if devotees do not witness these panchalingas later.
Sri Kathale Someshwara Swamy
Being one of the panchalingas, it is huge amidst huge rocks and dwells in dark place. Lights are necessary to witness this deity even on the brightest days.
Sri Gavisiddeshwara Swamy
This temple is at the top most point of the hill. As Lord Shiva resides in beautiful naturally carved caves, deity is names as Gavi Siddeshwara. An idol of Basava weighing around 10 kgs representing Nandi is place beside Linga. Many devotees visit here with the desire of lifting this Basava Idol and this is also called as 'Kallu Seva'.
Sri Malleshwara Swamy
This deity can be seen on the way of Sri Gangadareshwara Temple. Parama Poojya Jagadguru Sri Sri Sri Dr. Balagangadharanatha Swamiji has renovated this temple.
Sri Chandramouleshwara Swamy
This temple is attached to old Math premises. This linga is the Atmartha Linga of Sri Guruji. He also performs anushtanas thrice a day here. Jwalapeetha can also be seen this place. This temple also has a way towards a cave where many sages performed penance.
Sri Ganagadhareshwara Swamy
A story about a Palegara of Arani associated with this temple can be quoted here. Earlier a Palegar Heritage by name Arani prevailed near Chunchanagiri. That Palegar did not have children for a long time. He prayed that he will form a cradle with bamboo and send servants to cut bamboo in Chunchanagiri. As they cut the tree, blood poured from the tree as if it was a human being. A bodiless voice said that instructed those workers to instruct the Palegara to construct a temple here as the deity resides here. In this significance, a cradle made from bamboo is always placed above Linga in this temple.
Sri Akasha Bhairava and Cheloora Kamba
Two hills can be seen in the northern direction of Chunchanagiri. The northern hill is called as 'Galigegallu'. It is also called as Akasha Bhairava. If one stands at the top of the hill and observes the rock there, it seems like a miracle. It is as high as 300 feet. It is difficult to trek that rock but a most pleasurable one. One can get the mesmerising view of Nature around. A rope has also been tied to support trekkers. During the Jaatra Mahotsava, even ladies with their kids at their back climb this rock. Devotees enjoy this dangerous and beautiful activity without any harm. The southern hill is called as 'Cheloora Kamba'. This is filled with caves. It is difficult to trek this hill. Devotees revere this pillar and offer precious things with the belief that it will secure their future.
Koogu bande
If we surround the hill from northern direction, visitng Kanive Hanuma, in a point called Medara Gudda, echo of our voice can be clearly heard. It seems as if someone is repeating our words hiding themselves in caves. If we move further, in the way of Beladakere village, there is a stone in the formation of a snake, called as Nagarakallu. It entrances the people about its formation
Sri Annapoorneshwari
This deity resides behind Jwala Peetha. Goddess Parvati in the form of Annapoorneshwari blesses devotees and students of Sri Kshetra with timely food. From ancient past, this Math is named as 'Annadani Math', by the grace of the Goddess.